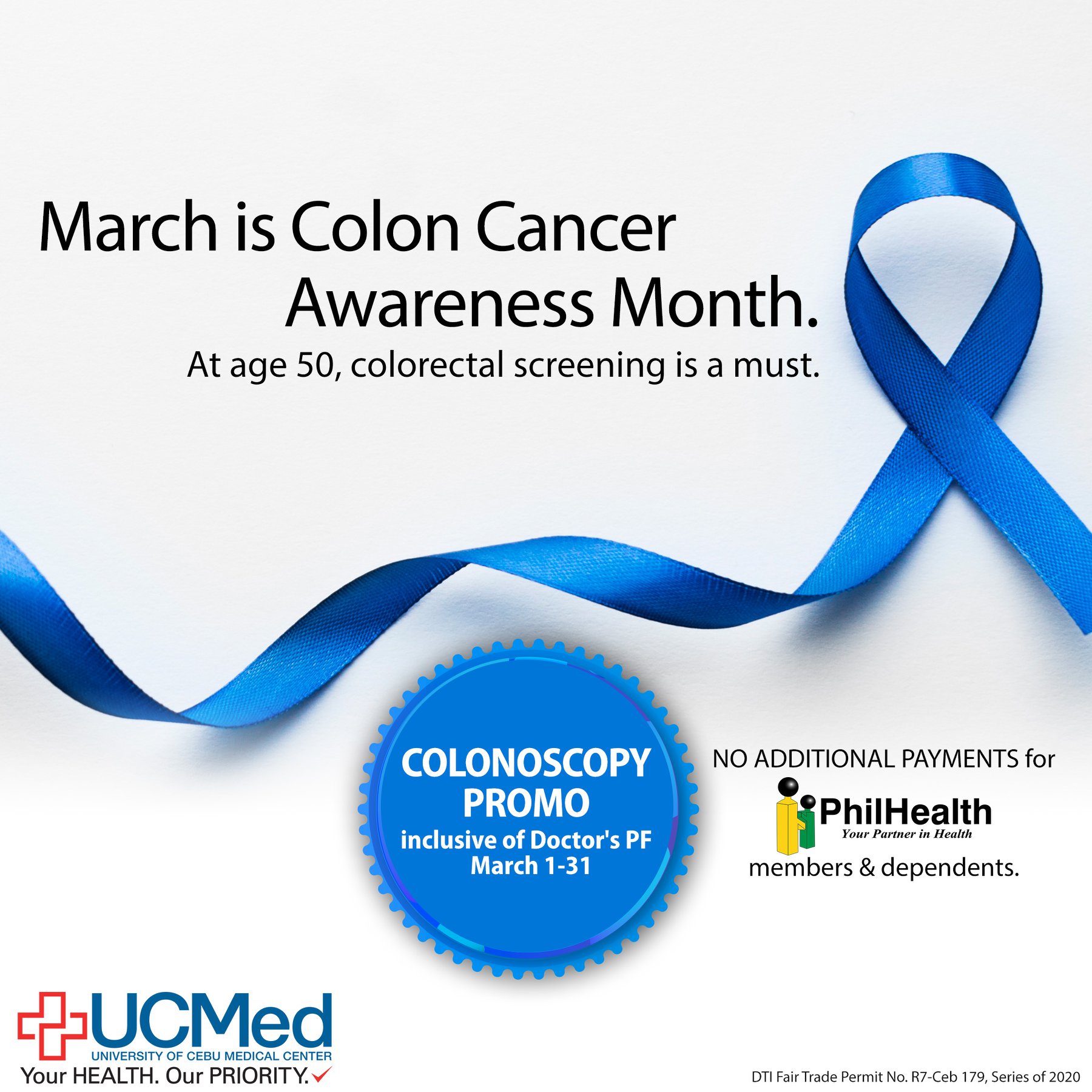 Keeping Your Colon Healthy
In 2018, Colon cancer ranks 3rd as the deadliest cancer in the Philippines according to the WHO survey. Colon cancer begins in the large intestine (colon) and generally affects older adults. At age 50, colorectal screening is a must and the key to preventing colorectal cancer.

However, the incidence of colon cancer among adults under the age of 50 has actually increased. It is time to visit your gastroenterologist if you're younger than 50 and have the following symptoms:
Symptoms such as pain, blood or other irregularities
Family history of colorectal cancer or polyps
Personal history of cancer
If you have ulcerative colitis, inflammatory bowel disease or Crohn's disease
Colon cancer usually begins as small, noncancerous (benign) clumps of cells called polyps that form on the inside of the colon. Over time some of these polyps can develop into colon cancers. There are certain risk factors that cause the progression of pre-cancerous polyps in the colon. But with healthy habits, one can keep their colon healthy and cancer-free.
Healthy Diet
Fill your diet with fruits, vegetables, and whole-grain fiber. Fruits and vegetables are high in antioxidants, while fiber promotes regular bowel movements. Skip the red meats and processed foods as they are high in saturated fat and have been linked to colon cancer. Include lean proteins such as beans, poultry, and fish instead.
Quit Smoking & Alcohol
Alcohol and cigarettes are familiar with risk factors for colon cancer. Drinking increases the workload on the liver, which causes more toxins to pass through the colon. While cigarette smoking is also linked to other cancers other than lung cancer, including colon cancer.
Exercise
Studies show that physically active people have a 24% lower risk of colon cancer than those who are not.
Regular Colonoscopy
Doctors highly recommend regular screening tests such as a Colonoscopy in preventing colon cancer. Through a Colonoscopy, doctors are able to identify and safely remove polyps before they turn into cancer. Having a regular colonoscopy examination is the best way to ensure your colon is healthy.
Here at UCMed, we are offering a premium promo on outpatient DIAGNOSTIC COLONOSCOPY. Patients will just present their Philhealth to avail of the promo from March 1-31, 2020. The Colonoscopy Promo is inclusive of:
Doctor's PF
Supplies
and NO ADDITIONAL Payments for PhilHealth Members & dependents
Book a colonoscopy with our Endoscopy Unit today and call 888.2145.

Source: https://www.conehealth.com/services/cancer-care/6-ways-to-keep-your-colon-healthy-and-cancer-free/