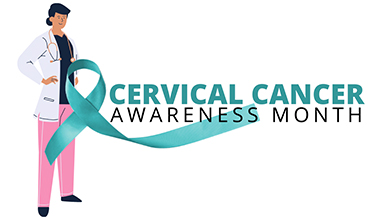 What is Cervical Cancer?
According to the Department of Health (DOH), Cervical Cancer is the 2nd leading cancer among women in the Philippines. DOH expects around 7,277 new cases and 3,807 deaths due to cervical cancer to occur annually.

All women are at risk for cervical cancer. Cervical cancer affects the entrance to the womb. In the early stages of cervical cancer, little to no symptoms may occur. But as the cancer progress, some of the most common signs of cervical cancer include:

Abnormal vaginal bleeding
Increased vaginal discharge
Bleeding after going through menopause
Pain during sex
Pelvic pain
Cervical Cancer can be prevented.
Vaccination against high-risk human papillomavirus (HPV), which causes most cases of cervical cancer, is a safe and effective way to fight Cervical Cancer. CDC recommends HPV vaccination starting at 11 or 12 years of age.

Cervical Cancer can be cured.
Depending on how advanced your cancer is, you may need more than one type of treatment. The American Cancer Society recommends either surgery or radiation combined with chemotherapy may be used for the earliest stages of cervical cancer. For later stages, radiation combined with chemotherapy is usually the main treatment.

Regular screening is important.
To prevent cervical cancer regular screening is important. The cervical cancer screening tests can help find pre-cancer conditions before they can turn into invasive cancer. Women are recommended to undergo regular cervical cancer screening starting at 21 years of age.

The Pap test (or Pap smear) is suggested for women 21-29 years of age every three (3) years. For abnormal Pap test results, HPV testing for this age group is highly advised. At age 30, women should begin a combination of Pap test and HPV test every five (5 years) for normal results until age 65.

Visit your OBGYN doctors today and ask about the right cervical cancer screening tests for you!