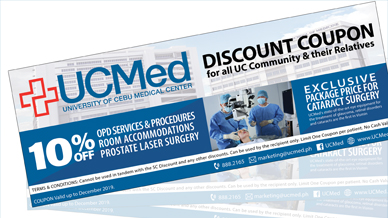 Healthy Savings for all UCnians!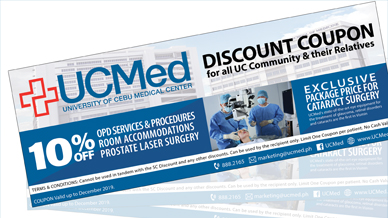 GET 10% OFF
OPD Services & Procedures
Room Accommodation
Prostate Laser Surgery
CATARACT PACKAGE
Php 28,000.00/eye
Inclusive of Doctor's PF, Lens,
Senior Citizen Discount and Philhealth
How to AVAIL?
Exclusive Discount Coupons are now available in all UC Campuses and UCMed Marketing Department.
Just present your Alumni or Student ID to claim your coupon
UC DISCOUNT COUPON Program is exclusive for all UC community and their relatives. This is valid from June 1, 2019, up to December 31, 2019.
Get your Discount Coupons from the following:
a.) UC Campus where you belong
b.) UCMed Marketing Office @ the 5th Floor
Terms and Conditions:
1. Patient must present the Original Coupon to avail of the discount.
2. Coupon can be used by the recipient only. One coupon may be used by the recipient in all centers.
3. Limit One Coupon per patient.
5. Discount cannot be used in tandem with the Senior Citizen's Discount and any other discount.
6. All DISCOUNTS shall be deducted after Philhealth & HMO (if applicable).
7. Coupon has NO CASH VALUE.
For additional inquiries, please call 888.2165. Thank you for choosing UCMed.