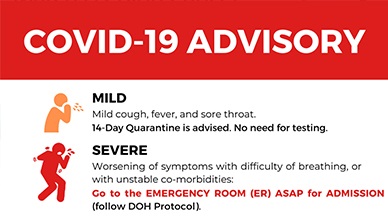 Are you at risk for COVID-19?
If you are worried about your status and think that you are manifesting some symptoms of COVID-19, this advisory may help you assess your condition. But when you are exhibiting all symptoms with an exposure to a known positive COVID-19 case, we strongly advise you to proceed to the Emergency Room of the nearest hospital.
For any other concerns, please FOLLOW the DOH algorithm for testing.
You may also call the DOH COVID-19 24/7 Hotline at 0922-397-2334 / (032) 402-3091
Your health and safety matter the most in these trying times.