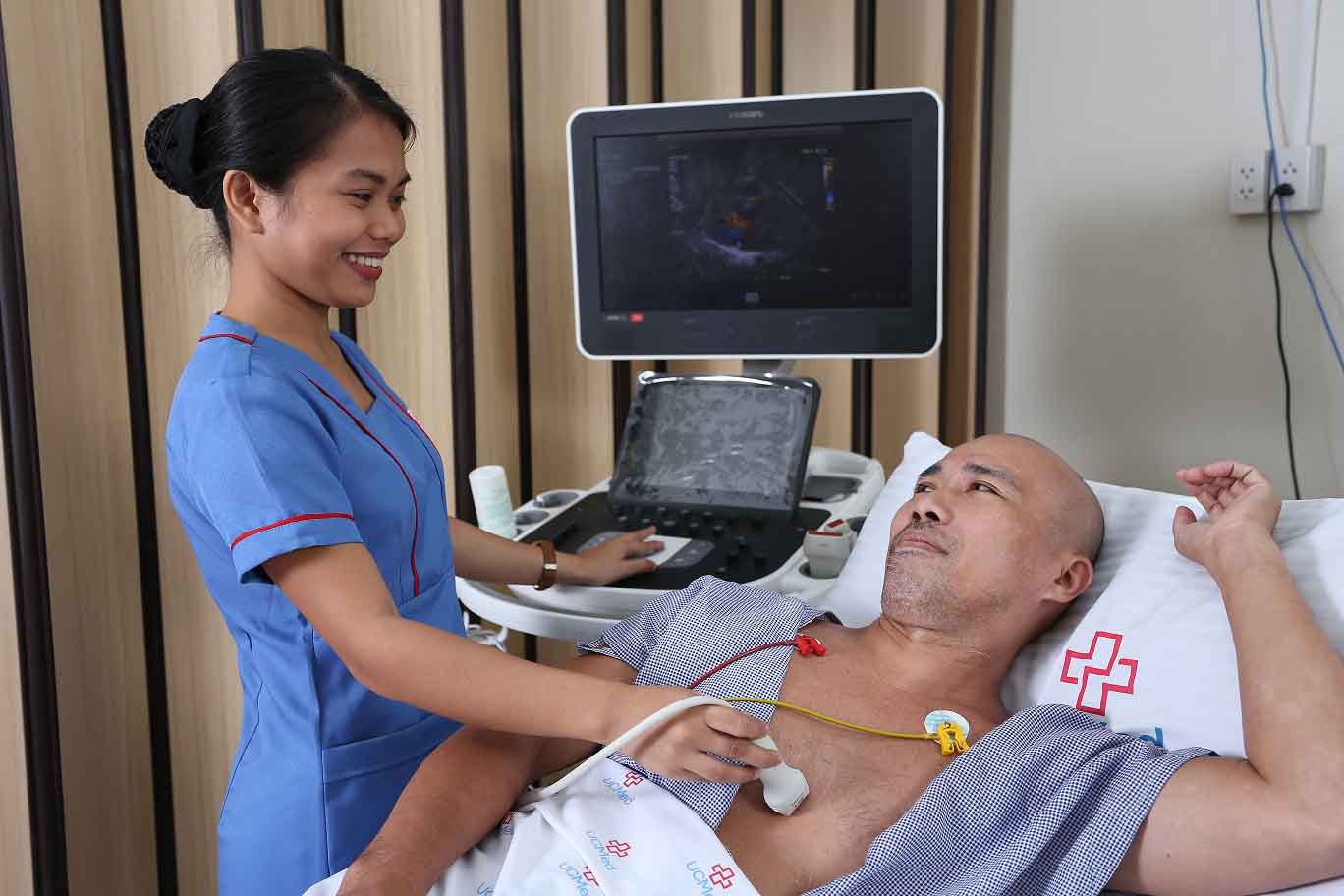 Cardiovascular Diagnostic Center
Trunkline: (032) 517-0888 Local 3100 | 3101Clinic Hours : Monday to Friday 7:00AM-5:00PMClinic Hours : Saturday 7:00AM-3:00PM
---
Performs various diagnostic tests that help physicians in diagnosing heart and circulatory problems.
---
Cardiovascular Diagnostic Services Include:
24-HR HOLTER MONITORING
2D-ECHO WITH DOPPLER (ADULT)
2D-ECHO WITH DOPPLER (PEDIA)
ABDOMINAL AORTA STUDY
24-HR AMBULATORY BP MONITORING
ARTERIAL DUPLEX (LOWER EXT)
ARTERIAL DUPLEX (UPPER EXT)
AV MAPPING (BOTH)
AV MAPPING (ONE UPPER EXT)
ARTERIOVENOUS DUPLEX (LOWER EXT)
ARTERIOVENOUS DUPLEX (UPPER EXT)
CAROTID DUPLEX
DOBUTAMINE STRESS ECHO
DUPLEX SCAN OF MASS/AV SHUNT
ECG
EEG REGULAR
EEG 2 HOURS
EEG 4 HOURS
EVALUATION OF AV SHUNT
EXERCISE STRESS ECHO
FETAL ECHO
FETAL ECHO (TWINS)
INTRAOPERATIVE TEE
RENAL ARTERY DUPLEX SCAN
RESULTS REPRINTING
RHYTHM STRIP
TRANSCRANIAL DUPLEX AND CAROTID
TRANSCRANIAL DUPLEX
TRANSESOPHAGEAL ECHO (TEE)
TREADMILL STRESS TEST
VENOUS DUPLEX (LOWER EXT)
VENOUS DUPLEX (UPPER EXT)
2D ECHO

An echocardiogram uses sound waves to produce images of the heart. This commonly used test allows the doctor to visualize how a heart is beating and pumping blood. The doctor utilizes these images from an echocardiogram to determine various abnormalities in the heart muscle and valves. This includes information about heart valves, whether they leak or are restricted in their movement and also the size of the heart chambers and how they will function.
Depending on what information the doctor needs, one may have one of several types of echocardiograms. Each type of echocardiogram procedure has few risks involved.
A trained echo technician records this information that aids the physician in identifying problems with the functioning of the heart. Doppler ultrasound, a special type of echocardiogram, provides information on the pressure and speed of flow in the heart.

ECG

is the process of recording the electrical activity of the heart[4] over a period of time using electrodes placed over the skin. These electrodes detect the tiny electrical changes on the skin that arise from the heart muscle's electrophysiologic pattern of depolarizing and repolarizing during each heartbeat. It is very commonly performed to detect any cardiac problems.

Treadmill Stress Test

is a cardiological test that measures the heart's ability to respond to external stress in a controlled clinical environment. The stress response is induced by exercise or by intravenous pharmacological stimulation.

EEG

is a test that detects abnormalities in your brain waves, or in the electrical activity of your brain. During the procedure, electrodes consisting of small metal discs with thin wires are pasted onto your scalp. The electrodes detect tiny electrical charges that result from the activity of your brain cells.