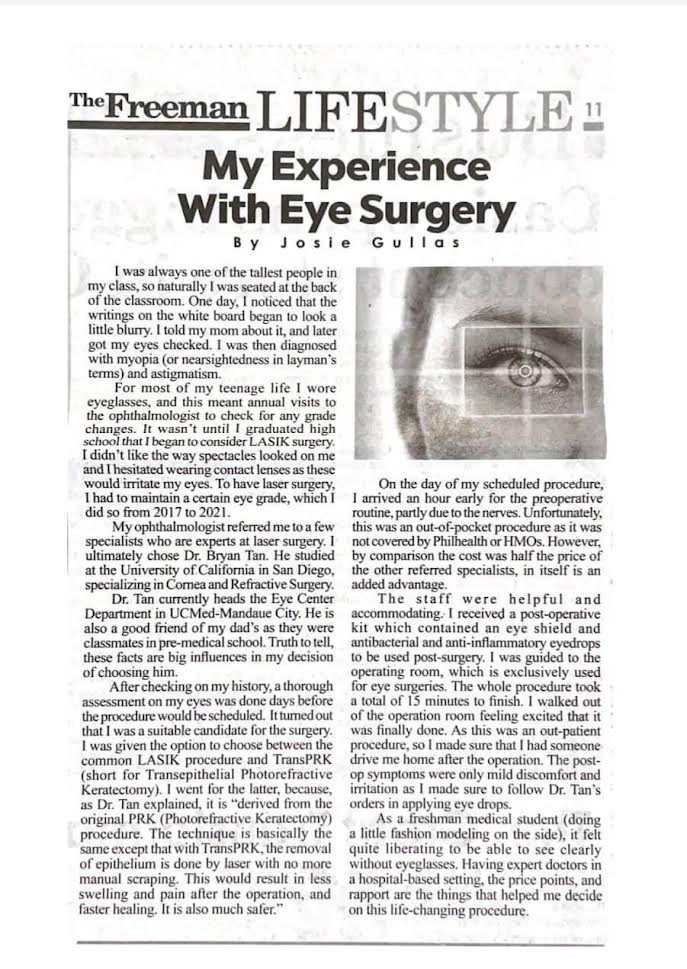 My Experience With Eye Surgery
I was always one of the tallest people in my class, so naturally I was seated at the back of the classroom. One day, I noticed that the writings on the white board began to look a little blurry. I told my mom about it, and later got my eyes checked. I was then diagnosed with myopia (or nearsightedness in layman's terms) and astigmatism.
For most of my teenage life I wore eyeglasses, and this meant annual visits to the ophthalmologist to check for any grade changes. It wasn't until I graduated high school that I began to consider LASIK surgery. I didn't like the way spectacles looked on me and I hesitated wearing contact lenses as these would irritate my eyes. To have laser surgery, I had to maintain a certain eye grade, which I did so from 2017 to 2021.
My ophthalmologist referred me to a few specialists who are experts at laser surgery. I ultimately chose Dr. Bryan Tan. He studied at the University of California in San Diego, specializing in Cornea and Refractive Surgery.
Dr. Tan currently heads the Eye Center Department in UCMed Mandaue City. He is also a good friend of my dad's as they were classmates in pre-medical school. Truth to tell, these facts are big influences in my decision of choosing him.
After checking on my history, a thorough assessment on my eyes was done days before the procedure would be scheduled. It turned out that I was suitable candidate for the surgery. I was given the option to choose between the common LASIK procedure and TransPRK(short for Transepithelial Photorefractive Keratectomy). I went for the latter, because, as Dr. Tan explained, it is "derived from the original PRK (Photorefractive Keratectomy) procedure. The technique is basically the same except that with TransPRK, the removal of epithelium is done by laser with no more manual scraping. This would result in less swelling and pain after the operation, and faster healing. It is also much safer."
On the day of my scheduled procedure, I arrived an hour early for the preoperative routine, partly due to the nerves. Unfortunately, this was an out-of-pocket procedure as it was not covered by Philhealth or HMOs. However, by comparison the cost was half the price of the other referred specialists, in itself an added advantage.
The staff were helpful and accommodating. I received a post-operative kit which contained an eye shield and antibacterial and anti-inflammatory eyedrops to be used post-surgery. I was guided to the operating room, which is exclusively used for eye surgeries. The whole procedure took a total of 15 minutes to finish. I walked out of the operation room feeling excited that it was finally done. As this was an out-patient procedure, so I made sure that I had someone drive me home after my operation. The post-op symptoms were only mild discomfort and irritation as I made sure to follow Dr. Tan's orders in applying eye drops.
As a freshman medical student (doing a little fashion modeling on the side), it felt quite liberating to be able to see clearly without eyeglasses. Having expert doctors in a hospital-based setting, the price points, and rapport are the things that helped me decide on this life-changing procedure.
–by Josie Gullas